Dentist - La Grange
1415 W 47th St.
La Grange, IL 60525
(708) 354-0585


My Blog
Posts for: December, 2017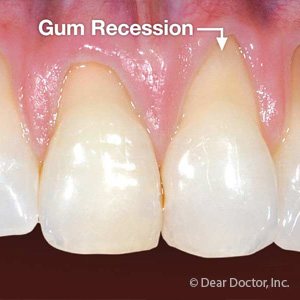 Your mouth is a lot like the Wild West — home to millions of bacteria and other microbes, some of which are definitely not "the good guys." But your teeth are well-protected from these hostile forces and their acidic waste products: with enamel shielding the visible part of your tooth, your gums protect the parts you can't see.
As effective as they are, though, your gums aren't invincible: their greatest threat is periodontal (gum) disease. This bacterial infection arises from plaque, a thin film of bacteria and food particles accumulating on teeth due to inadequate brushing and flossing.
The infected tissues soon become inflamed (red and swollen), a natural defensive response from the immune system. The longer they're inflamed, however, the more likely they'll begin detaching from the teeth. The gums may eventually shrink back or recede from the teeth, often causing them to appear "longer" because more of the tooth is now exposed to view.
Gum recession doesn't bode well for your teeth's survival: the exposed tooth and underlying bone can become even more susceptible to infection and damage. In the end, you could lose your tooth and portions of the supporting bone.
Treatment depends on the severity of the gum recession. In mild to moderate cases, we may only need to perform the standard gum disease treatment of removing plaque and calculus from all gum and tooth surfaces (including below the gum line) with special instruments. This helps reduce the infection and allow the gums to heal and re-establish attachment with the tooth. In more advanced cases, though, the recession may be so extensive we'll need to graft donor tissue to the area using one of a variety of surgical techniques.
Although the right treatment plan can help restore your gum health, there's another approach that's even better — preventing gum disease in the first place. You can reduce your disease risk by practicing daily brushing and flossing and visiting your dentist regularly or when you see symptoms like gum swelling or bleeding. Taking care of your gums won't just save your smile — it might also save your teeth.
If you would like more information on diagnosing and treating gum disease, please contact us or schedule an appointment for a consultation. You can also learn more about this topic by reading the Dear Doctor magazine article "Gum Recession."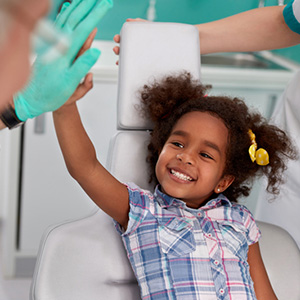 As a parent you want your child to have the best possible start in life. One of the greatest gifts you can provide them is a positive experience in dental care—especially visiting the dentist.
Unfortunately, not all children are so lucky. Visiting the dentist for them is foreign and forbidding; it leaves such a negative impression they may avoid the dentist later in life even when faced with acute problems.
It doesn't have to be like that. Here are 3 ways you can help your child have a great experience at the dentist.
Start dental visits early. The best time to begin dental visits is before your child's first birthday as their teeth begin to erupt. Dental diseases like tooth decay can begin as early as two months so it's vital to detect any problems as soon as possible. Establishing an early relationship with your child's dentist benefits you too with helpful tips and advice from them on dental care at home. And, children visiting the dentist early are more likely to become accustomed to it as a routine part of life, and more likely to continue the habit on their own.
Find the right dentist. The right dental practice can make all the difference in the world for your child's comfort level. Parents often choose a pediatric dentist who specializes not only in dental care for children and adolescents but in how to engage with them and put them at ease. The key, though, is to find a dentist and staff who work well with children and understand how to make them feel at home in their office.
Display a positive attitude. You've probably already noticed how your child picks up on your feelings in different situations—which often affect how they feel and act too. So be sure when you visit the dentist with them you have a positive, proactive attitude, ready to partner with their provider in treatment and prevention measures. And above all display a calm and relaxed manner: your child will be more apt to follow your cue and relax too.
If you would like more information on providing great dental care for your child, please contact us or schedule an appointment for a consultation. You can also learn more about this topic by reading the Dear Doctor magazine article "Taking the Stress out of Dentistry for Kids."